Eurofins PBMC Network… Any Corner of the World
The Eurofins PBMC Network service offerings entail effective harvesting, processing, cryopreservation, and shipping for storage or downstream analysis of peripheral blood mononuclear cells (PBMCs) which allows our clients the ability to evaluate immune functional responses to therapeutic agents while gaining a deeper understanding of immune system function during pre and post-dose, as well as at other integral stages of testing.
Eurofins Central Laboratory's global presence allows for the harmonization of PBMC processes and downstream analysis. In addition to our wholly-owned facilities, we comprise a global network of complementary laboratory network which can be brought on board to support rapid turnaround (less than 24 hours) sample processing. Currently, our global PBMC network deploys 34 locations and we are adding more with every new clinical protocol.
Eurofins BioPharma Services, Laboratory Testing division deploys 34 locations globally that comprise our core PBMC network which allows standardized processing, regardless of clinical trial site location.
We provide 24 TAT from point of collection to processing, from most global site locations:
Eurofins Standard PBMC processing protocols include

Ficoll Pacque Method
CPT Mononuclear Cell Preparation Tube
Accuspin PBMC Isolation Tube
25+ different Sponsor defined processing protocols
Variation in:

Window of processing
Collection techniques
Washing steps
Specialized stabilization media
We can incorporate Sponsor defined PBMC processing protocol via laboratory/technician qualification, including cellular viability.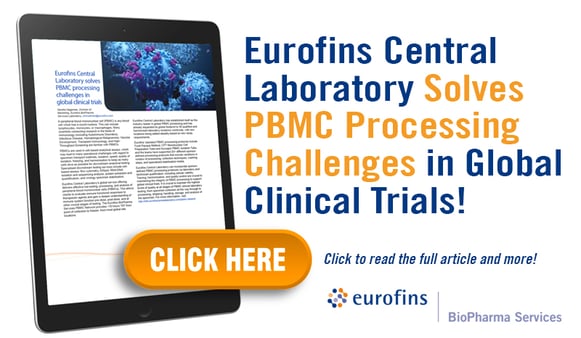 For 24 hours TAT requirements, all PBMC shipments are expedited and we use our preferred specialist courier relationship for the best model to meet transport needs. At the onset of any project we verify the exact times when PBMC isolation may be required, and we request site communication so that we can ensure adequate staffing ahead of time.
For less than 24 hours TAT requirements, we utilize either a Train the Trainer model, where we provide training and oversight at the local clinical trial site level, or we deploy our Travelling Laboratory Technicians to the clinical trial sites, to perform the qualified and harmonized PBMC stabilization.   Following the traditional CRA model in the industry, Eurofins has developed our Travelling Laboratory Technician model, which allows clients standardized analysis at the site level, for those specimens that have limited stability, prohibiting a more traditional centralized analytical solution.  Our Travelling Laboratory Technician staff operate under our existing CAP certifications and can travel to any location globally.  This service is provided currently for Testicular Toxicity protocols, which have stability TAT criteria of 45 minutes, and is available for PBMC isolation and stabilization for less than 24 hours stability.

Specialized downstream testing services include PBMC processing, Flow Cytometry, EliSpot, RNA/DNA isolation and sequencing analysis, Protein extraction and quantification, and Virology specimen stabilization. 
Flow Cytometry
Globally harmonized Flow Cytometry capabilities are available in all 4 Eurofins Central Laboratory test facilities in the USA, the Netherlands, Singapore and China.
In addition, in our greater Eurofins BioPharma Services, Laboratory Testing group, Eurofins Bioanalytical Services has over 20 years of experience in flow cytometry custom assay development, assay validation, and sample processing, and we offer you a sophisticated consultant and service solution for a wide variety of applications.