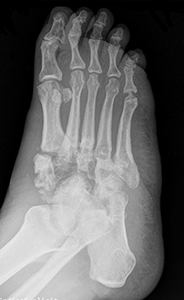 Eurofins Central Laboratory is pleased to collaborate with The Emmes Company in the conduct of Diabetic Foot Osteomyelitis (DFO) clinical trials.
Historically, research has been conducted in the identification of traditional biomarkers by using ESR, CRP, WBC, PCT, Interleukins (IL-2, IL-6, IL-8), and TNFa as indicators of efficacy or diagnosis. Based upon documented sensitivity and specificity outcomes, ESR has been highlighted as the most relevant.1
More recently, exploration of biomarkers associated with surgical site infection-induced Osteomyelitis points to both positive and negative potential biomarkers worthy of future investigation. Sphinganine and Sphingosine are identified as positive markers, while 2-oxoglutarate and Succinic acid are identified as negative markers.2
Regardless of the specific Osteomyelitis indication or the compound classification of pharmaceutical or biologics intervention, the combination of The Emmes Company and Eurofins Central Laboratory can take your Osteomyelitis protocol to a successful conclusion. With Eurofins' high volume, high throughput CAP/CLIA analysis, and the ability for advanced bioanalytical level validation of exploratory biomarkers, in combination with clinical study conduct oversight via The Emmes Company, your clinical development activity is in expert hands!
Further information can be found at https://info.eurofinsbiopharmaservices.com/emmes-agreement.
1. van Asten SAV, Peters EJG, Xi Y, Lavery LA. The Role of Biomarkers to Diagnose Diabetic Foot Osteomyelitis. A Meta-analysis. Current Diabetes Reviews, 2016, 0-00.
2. Isogai N, Shiono Y, Kuramoto T, Yoshioka K, Ishihama H, Funao H, Nakamura M, Matsumoto M, Ishii K. Potential osteomyelitis biomarkers identified by plasma metabolome analysis in mice. Sci Rep. 2020 Jan 21;10(1):839. doi: 10.1038/s41598-020-57619-1. PMID: 31964942; PMCID: PMC6972943